It's easy to redeem your cheque online
To help, we have shown you the steps you need to follow when using your cheque - it's as easy as 1,2,3.
Have your cheque available when placing your order online. At the checkout, remember to enter the offer code printed on your order form.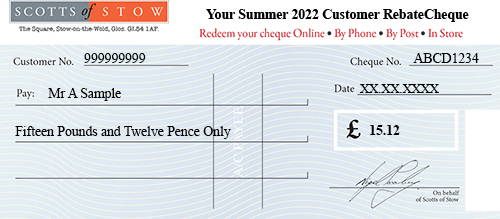 On step 3 of the checkout page, enter your loyalty cheque number - this can be found in the "Cheque No" field on your paper cheque, please don't use your customer number.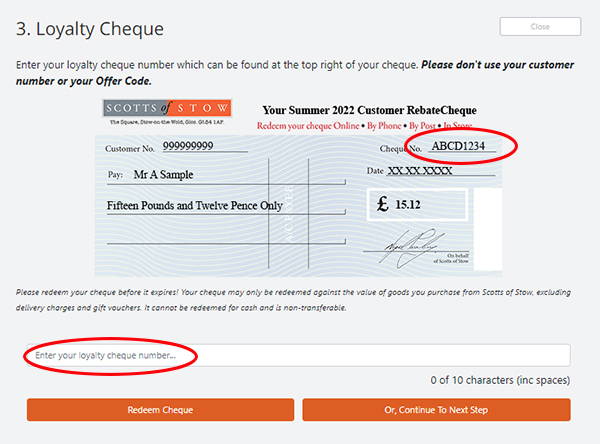 If there is a balance left to pay then you can complete the payment with any of our accepted payment methods on step 4.
Please redeem your cheque before it expires!
The cheque can be used against any product, including those which are already discounted, subject to a minimum order value (see your cheque for details). You can even use your cheque against the net price of one of our Half Price Offers. Make sure you use the offer code supplied with the cheque when placing your order. This can be found on the order form of your catalogue.
Your customer cheque may only be redeemed against the value of goods that you purchase. Redemption of your cheque is subject to a minimum order value (see cheque for details), excluding delivery charges. It may be redeemed online, by phone or by post, subject to the terms and conditions of redemption. Your cheque may not be redeemed for cash and is not transferable.
Please note that your customer cheque must be spent in full. Any unused value will be forfeited. If orders paid for in part with the cheque are cancelled or returned in their entirety, the cheque value can be used again in a subsequent transaction if used before the expiry date (see cheque for details). For orders that are part returned or cancelled, the refund will not include the value of your cheque.
The cheque cannot be redeemed for cash and is non-transferable.