There are several different bedspread sizes available including single, double, king size and super king size. And sometimes bedspreads do not conform to standard bedding sizes. So finding the perfect match for you depends on your preference, size of bed and the look you want to achieve.
You can choose a bedspread that will fit perfectly on top of your bedding with no overhang. Or you may want a larger bedspread to fold over and create a layered look or have a luxurious overhang that touches the floor. All of which will determine which bedspread size to choose.
What Size is a Single Bedspread?
A single bedspread is the same size as a single duvet, measuring approximately 53 inches by 78 inches or 135cm by 200cm. If you would like your bedspread to fit your single bed perfectly then you should match it with a single bedspread, however many choose to have their bedspread overhang their bed so you may want to size up.
Single bedspreads are ideal to have in spare bedrooms and children's rooms as they can transform the look of the room in an instant. Not only do they serve a decorative touch, but single bedspreads also add an extra layer of warmth in the winter too.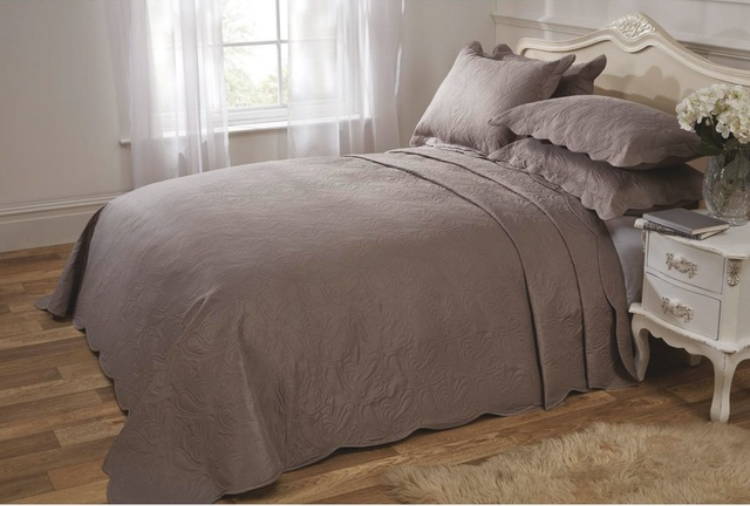 What Size is a Double Bedspread?
A double bedspread is approximately 78 inches by 78 inches or 200cm by 200cm, the same size as a double duvet. Adding a double bedspread to your bed can create a whole new look to your bedding, especially if your bedroom needs an injection of colour.
If you would like your bedspread to fit your double bed perfectly, then you should opt for a double bedspread. This ensures there will be no overhang as the extra amount of material can make the bedspread quite heavy to move around. However, if you prefer an overhang of material you can always size up to a king size bedspread.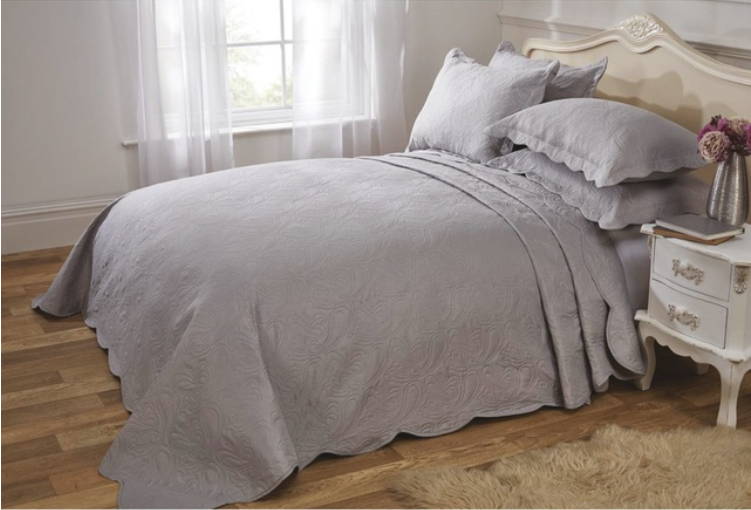 What Size is a King Size Bedspread?
A king size bedspread is approximately 90 inches by 86 inches or 230cm by 220cm and fits perfectly on a king size bed. Bedspreads for king size beds can add a touch of luxury and style to any bedroom and many choose to add layers to their bedding.
When you layer your bedding you are building on all the bed linen on your bed. Starting with the sheets all the way through to the bedspread. Your king size bedspread is the final touch so you should always consider what colour and material you want to go for.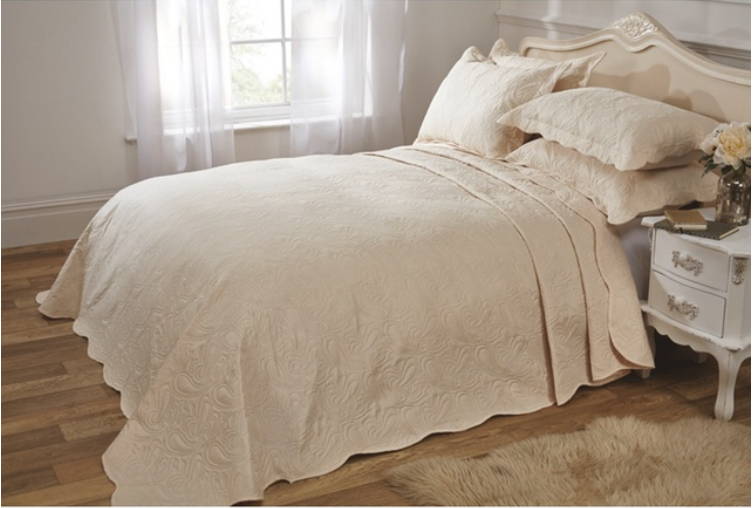 What Size is a Super King Bedspread?
The minimum size for a super king bedspread is the same size as a super king duvet which is approximately 102 inches by 86 inches or 260 by 220cm. Super king beds are the biggest standard UK bed size available, making super king size bedspreads the largest bedspreads you can get.
When you have such a large bed taking focal point of your bedroom, it can make all the difference dressing your bed with bedding that makes it look even more luxurious. Super king bedspreads play a huge part in dressing the bed, adding a final touch that can draw your eye straight to the bed when you enter the room.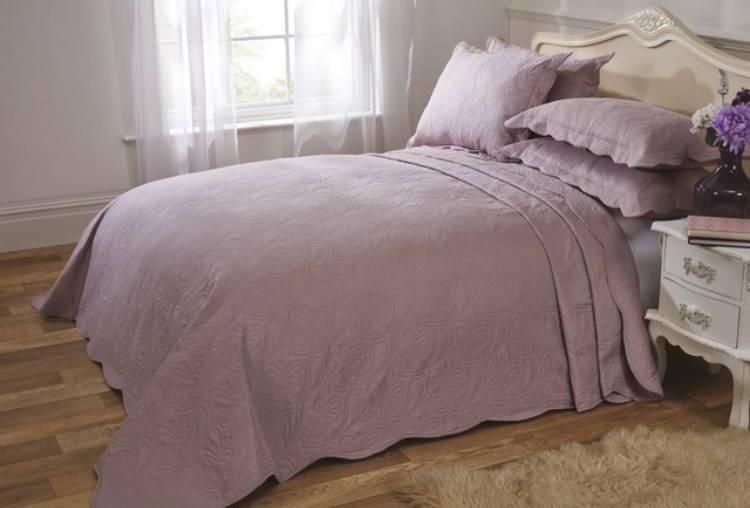 Should a Bedspread Touch the Floor?
Whether you want your bedspread to touch the floor or not is completely down to personal preference. A bedspread that touches the floor looks luxurious and can also help to hide anything below the bed if you use it for storage. Be careful not to have too much excess material though, as a build-up of material on the floor creates a trip hazard every time you walk past your bed.
You would not want a bedspread that is too small either. A small bedspread may look out of place and if you were after an extra layer of warmth from your bedspread you would be unlikely to get it. Many choose to size up on a bedspread so that it hangs slightly lower than the duvet, and if you find you want to reduce the size of it slightly you can always fold the bedspread in half.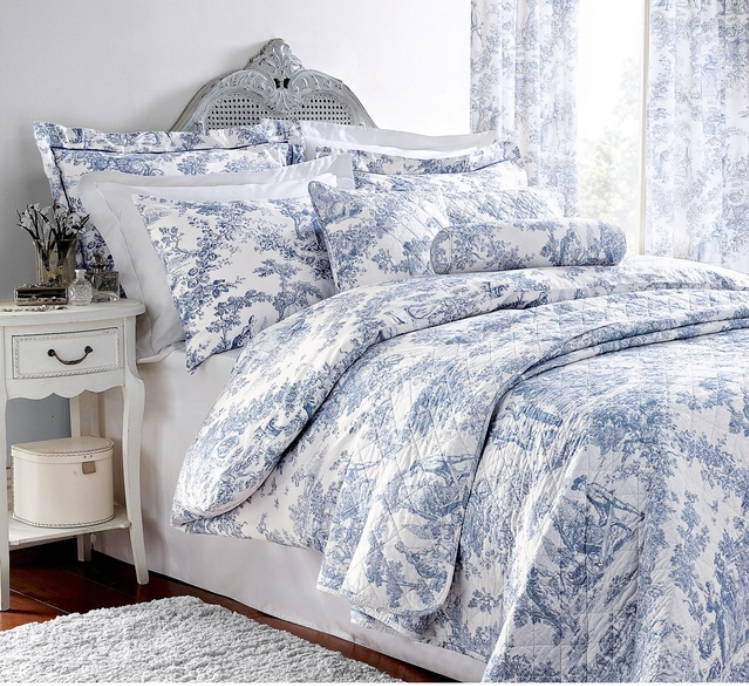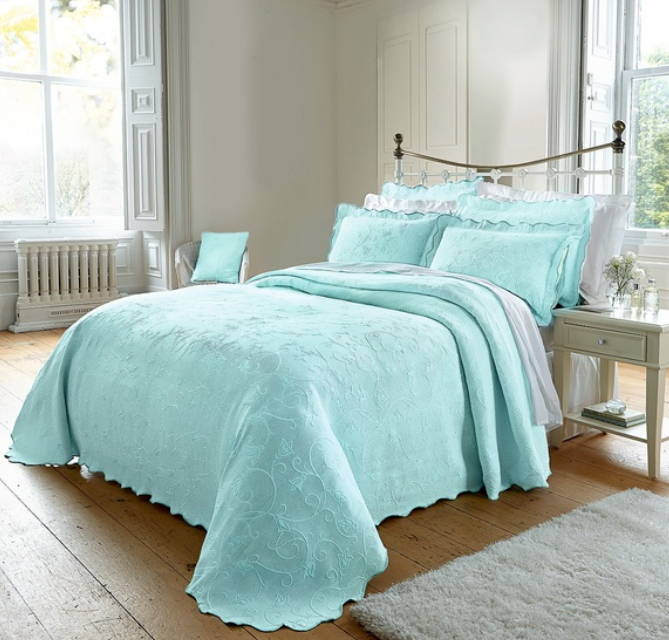 How to Measure for a Bedspread?
When it comes to buying a bedspread for the first time you will need to measure the space you want it to go. It is not always as easy as choosing a single bedspread for a single bed as factors such as mattress depth and whether you have a mattress topper or heated blanket can impact the overall measurement.
Bespreads typically skim the floor, so take a tape measure and measure from the floor on one side of your bed all the way across the width of your bed to the floor on the other side. If you do not want your bedspread to touch the floor then you can deduct a few centimetres from the final measurement to account for this. And if you find that the bedspread you bought does not touch the floor even though you wanted it to, you should choose the next size up.
Bedspread Pillow Shams
Some bedspreads come with matching pillow shams for you to complete your bedding, and there is a slight difference between a pillowcase and a pillow sham. A pillowcase is an outer case that goes over your pillow to keep it clean and protect it as you sleep. Whereas a pillow sham is a cover that goes over your pillowcase that serves as a more decorative touch.
They can also appear to differ in size but that is generally down to style of the pillow sham if it has a decorative border or not. It does not matter whether you have a memory foam pillow or down feather pillow as pillow shams are designed to fit every pillow available. They are a great choice if you wanted to update any plain bedding in your house with a pop of colour.