How to Measure for Curtains: Our Step-by-step Guide
Measuring for curtains may take a little time and effort, however, by following the essential rules below, you will achieve an elegant result for your windows.
How to Measure
Always use a metal tape measure for accuracy.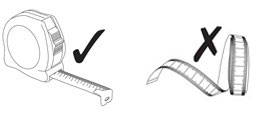 Decide whether you want your curtains to hang from a pole or track - both should be fitted 15-20cm above the top of the window and extend 15-20cm either side.
To ensure accurate measurements, make sure the pole or track is fitted before measuring for the curtains.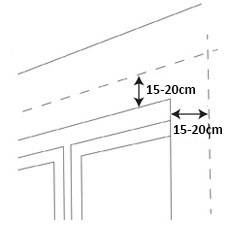 ---
To establish the correct curtain width for your window:
Measure the total width of the pole excluding the finials and ensure that you add 2.5cm for an overlap when the curtains are closed to prevent a central gap.
The width of each curtain should be twice the length of the total track or pole, this will ensure a natural gather in the fabric when the curtain is hung.
Please note that our curtain dimensions are for each individual curtain. All our curtains are supplied in pairs, except for door curtains, which are supplied singly.
---
To measure the correct length:
For poles with curtain rings, measure from the 'eye' - the small metal ring at the bottom of each curtain ring.
To fit 'eyelet' style curtains, measure from the top of the curtain pole.
For tracks, measure from the top of the track.
Sill length curtains should sit 1cm above the windowsill.
Below-sill curtains should sit 15cm beneath the windowsill.
Traditionally, full length curtains sit 1cm above the floor. However in modern homes, they are often left to trail loosely on the floor, which gives a more decadent look.
Floor length curtains are excellent for providing extra insulation, however, if your window has a radiator below it, then floor length curtains may not be the best choice. In order to avoid heat loss, curtains should sit 2-3cm above the top of a radiator, so the heat does not escape behind them.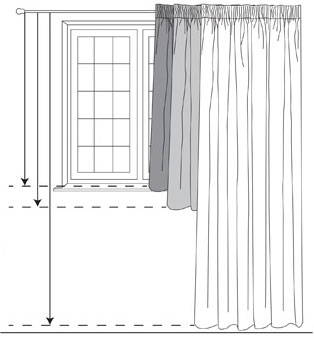 ---
Centimetre to Inch Curtain Size Conversion Table (Width x Drop)
CM
Inches

114 x 137
114 x 183
114 x 229
117 x 137
117 x 183
117 x 213
117 x 229
127 x 137
127 x 183
132 x 107
132 x 122
132 x 137
165 x 183
165 x 229
168 x 137
168 x 183
168 x 213
168 x 229
190 x 137
190 x 183
190 x 229
229 x 183
229 x 229
254 x 183
254 x 229

44 x 53
44 x 72
44 x 90
46 x 53
46 x 72
46 x 83
46 x 90
50 x 53
50 x 72
52 x 42
52 x 48
52 x 53
65 x 72
65 x 90
66 x 53
66 x 72
66 x 83
66 x 90
75 x 53
75 x 72
75 x 90
90 x 72
90 x 90
100 x 72
100 x 90